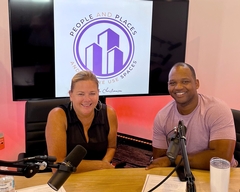 Tony Simmons was expected to follow in his family's footsteps and become an attorney, but for whatever reason, his instinct wanted to go down a different path. After a couple of really great mentors, Simmons was introduced to the Real Estate space. His route led him to become the President of his own company, The Simmons Group, a Real Estate Investment and Consulting Firm. Looks like his instincts were right - a trait many in the business wish to have, and only a few are naturally given.
Prior to starting his own company, Simmons was a partner at another firm buying historic tax credit renovation buildings. What that entailed was finding state programs that matched the federal tax credit program, and where those overlapped, he would look for buildings in the downtown area to purchase and do deep value and construction.
"It was kind of this weird puzzle. You already have the outside of the puzzle built and you had to figure out how to make the inside work," Simmons explained.
In 2017, he felt it was time to start his own shop to focus more on the product type vs. the building type. The Simmons Group focuses on multifamily housing development.
"The joke in our office is we don't want to buy someone else's mistake, we want somebody to buy ours! We laugh about that often … but the majority of our work is about providing risk-adjusted yield to our investors and part of that means we have to create value. In this space and economic cycle, it's hard to create value if you're not building it from scratch," Simmons said.
Simmons says as a country, when it comes to rental housing stock, we are so far behind. He says people are looking for something that's quality and they have the means to pay for it. There is a large gap between what we have in supply, and what we need to have to meet demand … and to build our way out of it will take time.
"In our office, it's not what we're doing today, it's not about today's dollars, it's about what we've created for tomorrow and if we can do a good enough job creating for tomorrow, we think we'll do ok today," Simmons said.
When creating for tomorrow, Simmons explains that creating a product that is livable for how society changes, like an unpredictable change or event like the pandemic, is an adaptation he has applied through his work.
"We saw signs of people not wanting to be in the office, taking less and less office spaces and leases, so there was a suggestion that we were going to start to have to tailor products that delivered places for people to work from home or other spaces outside of their home," Simmons said.
Which led Simmons to a new product called a 'Pocket Office' where he teamed up with Ori (provider of multifunctional, robotic-powered space-saving solutions). A Pocket Office allows users to transform any room into a dedicated workspace with the push of a button. The Pocket Office caters to apartment renters and condo owners.
"It looks like a built-in piece of furniture like your entertainment center, and you'd say 'Alexa, open my office,' and it powers up and opens and has a full sit/stand desk with a bunch more storage and then you'd say 'Alex, close my office,' then it closes back and you can go back to entertaining people," Simmons said.
Among many other things, another endeavor Simmons is constructing is the development of a 207-unit apartment complex of an existing office building in Golden Valley. This complex will sit on a 2.5 acre park where there'll be a sculpture garden and space for community gatherings like food trucks and movies in the park. With new, integrated ideas, Simmons likes to push the envelope. He says there are so many good ideas that are out there that the only difference between seeing them in the mainstream and not, is capital. He tries to put himself in rooms with really smart people; whether that's a high-net-worth individual, or a private family office, or institutional capital.
"We try to find those ideas. We are a 'best idea wins' shop. It doesn't matter if it comes from somebody that's living down the road from us or if it comes from somebody that's Joe Billionaire that's doing something really smart. We want to take the best ideas from everybody and put them into products," Simmons said.
While Simmons says he likes to cherry-pick the sites of development, he not only builds there, but he builds up the community as well. He serves on the board for Rethos, a non-profit organization that inspires people to connect with historic places, creating a foundation for communities to flourish. He also is on the board of The Sanneh Foundation which provides services to unprivileged youth.
With the many hats Simmons wears, he takes pride in his work. He believes his little piece impacts the community and if everybody does that, we'd all be in a good place.
"At the end of the day, sometimes you have to do good, just because it's good. We try to make that our work … I try not to look at the bottom line (I still look at the bottom line), but what else are we going to do? We have so little time here, let's do something good," Simmons said.
To listen to Tony's full converstaion with Lisa, click here!