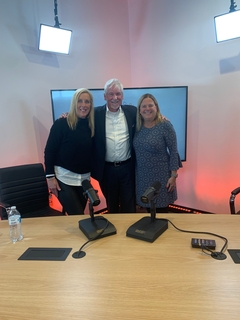 Growing up on the East Side of St. Paul, Dan Stoltz came from humble beginnings working a paper route every day from the age of 9. As a young boy, he also watched his father go to work by owning a painting business, pizza place, carwash, real estate, and more. It was from his dad's entrepreneurial spirit that he learned that those who worked hard, could make their own breaks. From St. Paul, Stoltz went on to college at the University of Northwestern in Roseville for his bachelor's degree then obtained his MBA from St Thomas. His first job was as CFO at Northwestern focusing on crunching numbers – but, he knew he wanted to have more interaction with people and fell into the Credit Union world.
Stoltz started at SPIRE Credit Union in 1999 as the CFO. In 2010, he was named President/CEO of SPIRE during a recession where the company had lost millions, had low capital, and was in a very dire situation. Stoltz looked at the situation as an opportunity to grow and learn and credits every hard situation as a building block of strength.
Twelve years later, Stoltz grew SPIRE to over $2 billion in assets and expanded from 10 branches to 22.
"If you want your dream to work, and your team to work, you find great people with the same passions. I was so blessed to have a great leadership team, and then you've gone through some pretty tough years … they're all lessons learned. In the long term, you look back on hard times and you're happy for them. It's lessons learned. It's not win or lose. It's win or learn," Stoltz said.
Stoltz draws on his past experiences to get through challenging times, especially what we're facing today with high-interest rates and inflation, but also, he believes the market was so hot that it was overdue for a correction.
"It makes sense the economy needs to cool down. The Federal Reserve is on a path to raise rates, so I do feel like it's going to continue for a while. Things are going to slow down, to what extent, we're not sure. But, I do think we're in it for the next couple years where there's going to be a slowdown, maybe some pain, maybe the loss of some jobs, but it's necessary to get us back on track so there's a more normalized inflationary rate," Stoltz said.
As far as lending money, he says the cautionary yellow light is on for financial institutions. But, Stoltz also stated that it's still a good time to be a purchaser and lender because there's still a lot of cash on the sidelines with a lot of opportunity.
"When times are good, we kind of sit back and think 'we have that same insurance', 'we have that same tax provider', all these same partners, but then when times are tough, we kind of ask questions 'why are we banking there?' If you're doubling down when people are looking for value and looking for a change, I see great things during times like these for us," Stoltz said.
Although the world seems to spin around our iPhone, Stoltz believes people are craving a connection and says that still exists within SPIRE. With his own roots planted in Minnesota, he feels as though a Midwesterner's values can stand up to any bank that sits on any coast.
"I'm a Minnesotan, I grew up here my whole life. East Coast, West Coast, definitely in banking, consumers move into mobile…I still feel like people in the Midwest are moving to mobile, but a lot of us in the Midwest still want that connection…I do also feel like that a bank, or a credit union that has brick and mortar in a community, says 'we're here', 'we're a part of this community' versus digital where you might not quite have that same feel," Stoltz said.
While Stoltz's resume shows he is a success, he really took the time to narrow down what makes a person a leader. He interviewed over 75 people he admired, and by the end, came up with two traits he believes will make anyone a success: being a go-getter and a go-giver.
"You got to show up. A successful person shows up when they're supposed to show up. And put in that extra effort…Of all these people I interviewed, it inspired me that these amazing people had some deep valleys, and lots of failures, but they just kept going after it. No matter if it was in real estate, or just in business as a leader." Stoltz said.
Being a go-giver by giving back and making a difference in their communities, without expecting something in return is just as important. Stoltz believes giving back with the three T's - your time, talent, and treasure – is key.
"It's a richer world and richer community and you gain so much back when you give back," Stoltz said.
To listen to Dan's full converstaion with Lisa, click here!