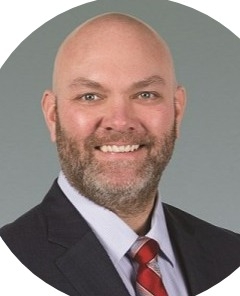 Brent Babcock's 'retail mind' has gathered experience down many avenues. To get to where he is today, he had to learn one step at a time. Babcock found himself training at Target, managing, and leading teams within a store. Next came the management of a store at AT&T and ultimately, a switch to Best Buy. In this role, he took on national responsibilities, even international, where he helped open Best Buy Canada, along with launching the Best Buy mobile initiative, opening 1200 stores within 18 months.
"I had a lot of experience learning about the development of the stand-alone stores (for Best Buy Mobile). I was part of the team that reviewed all the real estate opportunities and chose them with the local team for all the locations, built the models and then ultimately had to monitor the progress and success of those locations, or even failures," Babcock said.
With this level of experience in retail, it helped position him for his current position at Goodwill Easter Seals Minnesota as the Chief Sales and Marketing Officer. He is responsible for retail, e-commerce, aftermarket sales, and organization marketing, communications, and facilities. Switching gears to a nonprofit and social services organization, Babcock was caught by surprise, but in a good way.
"That's where I came to learn how retail helps provide additional support for all the programs that Goodwill provides the community. That meant a lot. Now, all of a sudden, I could work for a place that actually improves people's lives," Babcock said.
Goodwill's mission is a big one - to eliminate barriers to work in independence, directly helping and shaping people's lives. In 2022 alone, individuals using Goodwill's services secured 779 jobs, the average wage for participants was over 60% higher than Minnesota's minimum wage, they and served 4,785 people (1,049 youth within 30 school districts statewide).
"I think a lot of retailers are definitely doing a lot with charities and giving back to their communities and they indirectly help everybody's life because you're getting things that make your life better. Goodwill does that too…but simultaneously, you can know that when you donate or when you shop, you are directly helping somebody learn a skill or become better prepared through our career support services to get a job and really help their life," Babcock said.
Not only can a consumer shop in one of the 47 locations in the state, but shopping for a donated product online is an option too. Babcock and his team have helped develop and grow Goodwill's e-commerce business by over 400%.
"The store is trained and they understand they want to get the most value for a product. That might mean selling it in a store, it might mean going to an outlet, or through salvage, or it might mean going to e-commerce where it gets international attention for it to sell rather than the local market," Babcock said.
Optimizing store location is an important factor when evaluating its success. Babcock explains that the store location is one of the most important components to having a long-term strategy for a real estate portfolio. Every Goodwill store is different in the United States, whether it's the look and feel, the brand experience, or how the store affects the environment. With all of that, the most important thing is having a shared vision of what you're trying to accomplish.
"It's not just about adding in the market, but continually challenging yourself with your portfolio… When you have a shared set of goals, you know which stores you're going to close, or relocate, you know what communities you're trying to target so you can expand," Babcock said.
Overall, believing in Goodwill's mission, whether a consumer, or employee, provides purpose and enjoyment in our day-to-day lives.
"People love having a purpose – they love the connection to the mission. In fact, they demand it," Babcock said.
GESMN's Power of Work Fundraiser
To watch the podcast, visit our YouTube Channel