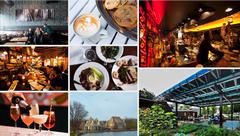 During Kim Bartmann's junior year of college at the University of Minnesota, she came to the realization that many students do – she needed a job. Having never stepped foot in a restaurant kitchen before, she was told by a friend to pretend to be a vegetarian to apply for work as a line cook at a Vegetarian restaurant. They hired her.
"I did not know what I was doing at all. They would say, go get the tamari, or the tahini, or the garbanzo beans; and I'd sort of go, ok…I'll go look for that," Bartmann says. Having worked in restaurant kitchens for several years, she ended up asking for a day off to attend that same friend's funeral. She got fired for it. She vowed to never work in the restaurant industry again. But, the tables turned and she didn't let that experience stop her.
Now, Bartmann owns eight successful Minneapolis restaurants including the ever- popular Barbette, Red Stag Supper Club, and Pat's Tap; she is a 3-time James Beard award semifinalist and is a titan in the restaurant scene. Although her creativity is a talent that has served Bartmann well, her intuition of the markets where she opened her restaurants have paid off too. She says that there wasn't ever a strategy for this, as she's always been driven by serving undeserved neighborhoods.
"I'm very driven by the neighborhood and the particular place, the building itself, the history of the building…Out comes something that I hope works for the physical site and the neighborhood it's in."
Not only are there challenges that come with opening a restaurant in and of itself – finding talent, subsidizing healthcare for her workers, and lifting others up, especially women, is important to Bartmann.
"Women in the restaurant space get under 2% of all the capital that's invested in restaurants. And that's an old statistic. Women of color, that's barely even a statistic." At the height of Bartmann's business, she's employed 350 people. But, just like the rest of the world, 2020 was a grind.
"Just shutting them down…where to go? All the product, and putting it to bed sort of. I can't say we did an excellent job of that at any of those locations. And then, trying to wake it up. I'll say that reopening a restaurant is probably 10-20x harder than opening a brand new restaurant and building it from scratch."
Post-covid, 10% of Bartmann's business are now curbside/take-out orders. Hospitality is not only required inside a restaurant, but now must go into a paper bag, a lesson she learned from the pandemic. As of this Spring, two of her restaurants are back to pre-pandemic levels, while six are 40-60% functioning.
With new changes taking place, Bartmann still considers herself an 'old school' restauranteur. That food comes first. Always. The hospitality in the room is vital from the food you touch, to the things you see, and what you hear.
Summer is here and the restaurant scene picking up. Bartmann says that constructive criticism should always be welcome.
"Get out and support the independent restaurants in your neighborhood. And if you don't support them, there's probably a reason why and you should tell them. Because they could use the feedback."
Eight great neighborhoods of Minneapolis have a wonderful place to dine, thanks to Bartmann. What area is she eyeing next? Stay tuned! A Bartmann Group concept may be coming to a neighborhood near you!
To listen to Lisa's conversation with Kim, click here https://www.buzzsprout.com/1968162/10573605 or tune in wherever you get your podcasts. We greatly appreciate your sharing, reviewing, subscribing, rating and downloading People and Places and How we Use Spaces!
We hope you'll listen in and subscribe wherever you get your podcasts.