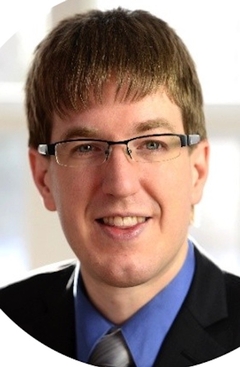 Mike Kaeding's parents started a family business managing and building apartments 30 years ago. When it was time for the business to be passed on to him, he wanted nothing to do with it. He didn't want people to think it was "given" to him…until he realized the business was much more than apartment buildings.
"I wrestled with my own ego on that, and eventually I realized what I really wanted was to take something small and grow it into something much larger. Right in front of me was this great opportunity to do that. My dad had this small business; what could we do with it to really expand and really impact the world in a positive way through it," Kaeding said.
Kaeding and his father doubled the size of Norhart in four years, until his father passed away unexpectedly, eventually making him the new CEO. He admits the hardships that came of that but also the blessings.
"Here I am, thrown into this business, which frankly I didn't know much about, but I think that my ignorance was actually a benefit. Because we started to question everything…so we just started changing the way things are done. We started bringing in world experts to challenge our thinking," Kaeding said.
By bringing in world experts tailored to the construction industry, Kaeding was welcoming knowledge and talent to challenge the old way of doing business. One instance was when he found an expert at Toyota who invented a manufacturing technique aimed at driving down costs while improving quality. Now, Kaeding applies the same concept to his business.
Due to supply chain issues in the construction world, Norhart wasn't able to acquire precast concrete as fast as needed for his apartment buildings. So, Kaeding found a world expert on precast concrete, begged him to join his company, and now, he leads his precast concrete division and Norhart builds the components themselves.
Another way that Norhart is improving the industry is by bringing some of the construction work offsite.
"One of the first things we did was steel wall panels. We took giant coils of steel in one end of the building, and out of the other, we have completed exterior wall panels. We're not quite there yet, but were hoping to have siding and insulation on all the walls, pre-built and assembled. Then they get delivered on site and put together like lego bricks," Kaeding said.
Because of his out-of-the-box thinking, Kaeding says that his company is already 20-30% less expensive to build than any other developers he has seen. His newest apartment building in Minnesota is a $100 million dollar building which he is delivering for 35% less, at 65 million dollars, all without cutting corners or quality.
"That's the problem with the industry. Look at the past 60 years, manufacturing has improved by 760%, agriculture 1500%, construction, nothing," Kaeding said.
Not only is Norhart driving down costs, but they're also disrupting how projects are financed. Kaeding is introducing a new initiative this year involving an online investment platform offering high-yield accounts backed by real estate. And you don't even need to be an accredited investor. The idea, Kaeding says, is to create, what feels like a bank account. But, it's an account that can earn people a higher rate of interest than you could possibly get from a bank.
"How do we eliminate the middleman in finance and banking? We can go to private equity funds, hard money lenders… there are a lot of different avenues we can go. But instead, what if we gave direct individual people access to a way that they could invest?" Kaeding said.
Norhart aims to create the best experience for residents by designing a better way for people to live, but Kaeding also takes it a step further by focusing on the employee relationship. It pays off as Norhart was recently recognized as being one of the Top Places to Work in Minnesota.
"Really building the right culture. In the world of construction especially, culture isn't known to be great, so we've really turned that on its head…but you pour all the time and attention into getting that aspect right, then the resident situation improves," Kaeding said.
Thinking big and out-of-the-box is a character trait Kaeding embraces and builds upon. He says that he chooses to be picky about how spends his time and always chooses to learn.
"When I come home, I'm watching some kind of documentary…as I'm drifting off to sleep, I watch YouTube videos. There's so much to learn on there. Every car ride is podcasts; I try to read a book a week. I work to do master classes," Kaeding.
With a combination of his love for learning, out-of-the-box thinking, and involving world-class experts, Kaeding has found ways to improve and revolutionize the industry.
To listen to podcast interview, click here!
Or watch the interview on our YouTube Channel