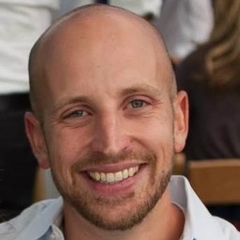 Max Musicant has always had a love of cities and public spaces. Growing up in a family whose ambitions were to improve cities and neighborhoods, Musicant took his upbringing to a new level. After Musicant finished college, he moved to New York City where he was drawn to economic development. He worked for a non-profit in Jamaica, Queens where he learned the art and science of placemaking and activation – and how to use programming as a way to drive commercial success through positive social activity.
"When I first started doing it, I fell in love with it right away. It's very entrepreneurial, it's holistic, it's interdisciplinary, it's very creative, it has immediate impact…It really does work in any sort of area for a population. It's about making it better for the people that are there," Musicant said.
After attending Yale to acquire an MBA, Musicant knew his path for activation work was leading him back to the same turf he grew up on – the Twin Cities. Musicant came home and observed the lack of service used for commercial common areas and public spaces - through this and the experience he had up to this point, The Musicant Group was born.
"I saw a big opportunity to create some win-wins and help the commercial real estate world, but in doing so, also help the thousands of people that use those common areas and spaces on a daily basis to make their lives better as well," Musicant said.
Since 2012, The Musicant Group has activated spaces that have touched millions of square feet of commercial space, put on thousands of events, and trained hundreds of people in his practice.
His first project that got the ball rolling for his business was the Old Federal Reserve Building on Nicollet and Washington Avenue in Minneapolis – which was once called The Marquette Plaza, now The Marq. With a huge vacant lawn sitting next to the building, Musicant got to know the Property Manager to pitch him his ideas. With a lot of bootstrapping on a minimal budget, The Musciant Group added seating, outdoor lawn games, concerts, and wellness programs. Through his efforts, the usage space was tripled during lunch hours, and after some data collection, the results showed people were happier throughout the workday, tenants were more satisfied; and all-around, a better working experience.
After gaining more experience and projects – one that stands out to him as a favorite was when they partnered with Westminster Presbyterian Church on Nicollet Mall. The end goal was to transform an inactive plaza into a space that invited the community in, and brought the members of the church out to connect to their surroundings. Over a three-year time period, The Musicant Group created an initiative that offered weekly concerts, yoga classes, dance lessons, a free and public sauna, and a Holiday Haut House winter event. It also tailored large events to the church members such as an All Church picnic, summer day camp activities, and after-service coffee and BBQ's.
"It was a really successful program in a high-profile location…It was a location where you could really highlight what was happening. That was a great case study which then launched us into doing a lot more work in office buildings, commercial centers, transportation sectors, and industrial parks," Musicant said.
According to Musicant, his approach can work in any and all different types of areas, even areas that have negative narratives. He says that creating positive elements in a space spurs constructive change, not only in a designated area but everywhere surrounding it.
"Positive activity drives out negative activity, not people. When you create good and positive things for people to do, people's behavior changes. That's ultimately what this process is all about…when you create an environment that supports people doing positive things, lo and behold, they respond and treat the environment better," Musicant said.
While The Musicant Group has worked on an array of projects, they're currently managing the business association and events for 50th and France, along with running programming for the Discovery Square Innovation campus in Rochester.
Musicant believes getting people to connect, especially now, is more important than ever. He says that while it's important to generate activity for the community, making it meaningful is what makes it significant.
To listen to the podcast, click here!
To watch the interview, click here!