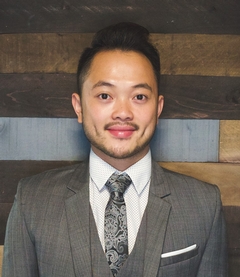 Marshall Nguyen was only 5 years old when he and his family packed their bags in Vietnam to come to the United States. The quickest way for his family to earn an income (without going back to school) was to enter the nail salon business. Fast forward to Nguyen's high school years, he was reading through the leases for the nail salons and unknowingly at the time, got his first taste in the business in which one day he'd be so successful in.
"Our culture, our parents want us to be a doctor or an engineer so (during college) I tried it, and I didn't like it. Teachers always said I talk too much, so I thought if I talk too much, let me find a career that will help me take advantage of that," Nguyen said.
After graduating from the University of Minnesota, he was young and motivated and ready to make the big jump into his commercial real estate career. He met with almost 25 market leaders in the industry, but nobody had anything available. He still believed in himself despite the struggle of finding an "in."
"You have to believe in yourself before anyone else can. I'm happy I went through that struggle because I have perspective…if it was so easy then I would've taken it for granted," Nguyen said.
When Nguyen first entered the industry, the first thing he had to figure out was building his book of business. Without knowing where to start or who to call, a lightbulb went off. He decided to revisit the restaurants he used to go to during college and introduced himself to the owners. He asked them if they were looking to expand or relocate and fortunately, that's what got the ball rolling.
"I wanted to prove to myself that I could build a new book of business and because of those relationships that's how the Asia Mall was started, the Pacifica Square Burnsville, and now were doing all these big developments around the country," Nguyen said.
From leasing small restaurants spaces to huge projects, introducing something new, like the Asia Mall in Eden Prairie (with 22 tenants), is a tall task, but one Nguyen is breaking the mold in. He says the Hmong community in Minnesota inspired him and his team. After seeing their Hmong village/town, they wanted to create something like it to reach all communities.
"We didn't want a Vietnam Town, or China Town, we wanted to do an Asian Town with Asian restaurants and concepts to bring people together. And that we can share this culture with the masses," Nguyen said.
Nguyen is working on a similar project, Pacifica Square in Burnsville – which will be a 50,000 square foot grocery store/international food hall, with a 15,000 square foot extension off that. Hoping to revitalize the Burnsville Center shopping mall, Nguyen is confident this project will bring excitement back to the area and his project will be a catalyst to the other tenants. The project is scheduled to open to the public in Spring 2024.
"A lot of developments we're doing are very community-based. I think that's where we're winning, as they're very meaningful projects. They're emotional and we do have an attachment to it. Once you do that, then the rewards will happen by default. Yes, you do it to make money, but you're also doing it to make a fun impact within the community as a whole," Nguyen said.
Click here to watch the interview on our YouTube Channel!
To listen to the podcast, go to our Podcast Website