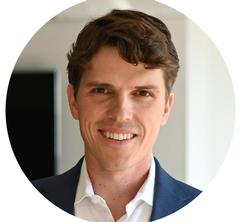 Leif Eikevik credits his father for merging his creative side with his technical side to shape him into the successful architect he is today. Eikevik works for Leo A Daly Architecture Firm, a national Architecture and Engineering firm that was established in 1915. Eikevik is based in Minneapolis where he is the Market Sector Leader for their commercial, life sciences and GSA divisions. With a boutique-feel workplace, complete with 80 employees and 800 across the country, their team reaches over 8 markets.
"We will throw ideas over the fence, and the fence being Minneapolis to L.A., or Minneapolis to D.C. We'll chase work all the way up to Alaska and Korea but it's still this small tight-knit team that everybody knows each other's names and everybody's pretty close, which has helped us get through the past couple years," Eikevik said.
While his job incorporates his creative and technical side, the importance of bringing stakeholders up to speed right away plays a big role in the outcome of a project. Eikevik explains the key players who have input or use to a building, could create a positive result… or derail it.
"We try and build a vision around eclectic goals of a group…we start with an idea. We will quickly say, who are the key people in the environment around this building? There's usually a spokesmodel of around 6-7 individuals that really should have awareness of it…If you haven't positioned this project with all the people they're listening to, then you've missed the opportunity to really streamline a project to a successful outcome," Eikevik said.
In Eikevik's role, being able to support a vision and create something from nothing is truly unique, but also one that requires tremendous focus and rigid attention to detail.
"It's exciting. But on the other side of the coin, from the moment you say 'go' on a site acquisition to the ribbon cutting, it is an extremely technical, time-consuming, coordination process to get these right. If you are in a building type that isn't time-consuming, it may be missing the mark on a few key performance issues that should've been observed…You have to put in the time to do it right," Eikevik explained.
Eikevik is also on the board for Rethos, a nonprofit organization that reimagines and rehabilitates historic buildings in Minnesota. In addition to cities like downtown Stillwater or downtown Excelsior, Eikevik believes there's a new focus away from metro areas and into smaller boutique cities. He says Minnesota is full of these city-state gems and they all elevate the vibrant culture of the state-at-large.
"My goal for Minnesota has always been, it's not just the have and have-not of Minneapolis and the rest of the state. It's Minneapolis and 20 other great towns in Minnesota that each are equally as important as far as places go, and should have tourism focus and economic development focus," Eikevik said. This is part of Leif's focus across MN towns including Owatonna, Victoria, and many others.
Before Covid, working from home seemed like a perk that many weren't able to enjoy. Now, many more full-time employees have worked remotely or in a hybrid model. Eikevik stresses the need to make spaces the type of experiences that people actually want to leave their homes for, but with this, comes challenges that are putting stress on the industry.
"People's leases are coming up and they're ready to move or implement true hybrid policies. Or, they're actually saying we need to get people back but we're going to bring them back to a new office that is absolutely stunning, exciting, and fully functional to a hybrid work model …There's a lot of pressure on the building stock and a lot of movement toward a specific or elite slice of the building portfolio, that not a lot of budgets can meet," Eikevik said.
Now that the world is returning to normal, Eikevik feels like the 'zoom-call culture' has negated a lot of social and emotional pieces of employees. Now, more than ever, he realized the importance of his own work and truly recognizes the significance of a good space, or place, that people want to be.
"It's fascinating to realize how much people need other people…You need other people, but you need buildings, or well-thought-out sites and places to incubate that. Without places and without great spaces people can be together, they won't have a place for that to happen," Eikevik said.