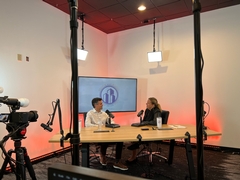 Cory McClure has an eye for opportunities that most people wouldn't know exist. Straight out of college, McClure worked in computer software and hardware sales for 15 years before the inevitable 2008 recession where the company he worked for laid off 25% of employees – including him. At 38 years old, he started over from scratch and switched gears to the real estate industry. McClure's timing couldn't be better as he focused on buying foreclosed properties.
"I jokingly tell people I turned my 40-hour-a-week job for an 80-hour-a-week job. Starting your own business, not knowing what you're doing, starting from scratch, without a job, trying to get loans, is definitely a challenge," McClure said.
McClure would buy around three houses a month that were going through foreclosure, which totaled around 35-36 houses a year. With the help of a realtor who would actively go look for properties, McClure would figure the cost to fix, the rental cost, and send an offer.
"We ended up getting a good process with great subs, great contractors, great leasing agents on the residential side, a great realtor, so I just built a team of experts around me and focused on running that whole show," McClure said.
Eventually, McClure was able to build a portfolio of properties long-term which totaled 45 residential properties. After he hit the 45 mark, McClure realized the growth of his business and just like before, an opportunity presented itself to him.
"One of my contractors came to me and wanted to do what I was doing and flip houses but he didn't have the funds to do that. He certainly knew how to do the work, he was fantastic, and he asked if I wanted to partner with him, loan him the money, and then sell the house and split the profit at the end. Therein launched my hard-money lending business," McClure said.
McClure slowed down buying houses and started to focus on his hard-money lending business. McClure explains that it's more of an asset-based loan, where he wasn't necessarily lending on the person, but on the property.
"I knew that if someone was buying it for 100 (thousand), he's fixing it for 50 (thousand), that in that neighborhood it's going to sell for over 200 (thousand). That if that person leaves, he stops paying, he runs out of money, I get the property back," McClure explained.
With McClure always looking for that next opportunity, he shifted into commercial real estate by utilizing a 1031 exchange. His first commercial real estate purchase was a strip mall in Spring Lake Park. Since then, he's sold 31 of the 45 homes he purchased and exchanged them for restaurants, industrial buildings, warehouses, and retail. He's also purchased other assets such as Subway's, Arby's, and vacation homes for rent.
Just this year, McClure launched Envision Commercial as a way for him to find more purpose in Real Estate Investing. His Commercial Real Estate company focuses on helping tenants envision being property owners. McClure says that the relationships he's built with families, and seeing them succeed, is something that makes his work all the more gratifying.
"They've raised their family in that house, or they've operated the business from the ground up, so it's rewarding to see them capture that goal of being more self-sufficient and not paying somebody rent…having it go towards themselves and building their equity. Pulling themselves up and allowing them to give back to their community and family," McClure said.
To listen to Cory and Lisa's conversation, click here!