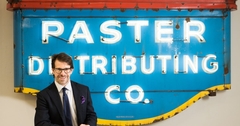 Starting out by developing single-family homes for GI's returning home from WWII, Paster Properties has evolved into a well-known and respected company. Howard Paster, the third generation to lead the family real estate business, continues its legacy. Today, Paster Properties develops several neighborhood commercial real estate properties across the Metro.
While family is important, Paster wanted to make a name for himself outside of it before taking the reins of the business.
Howard went off to University of Wisconsin-Madison for college. After graduating in 1991, he decided to move to Chicago and work at Mid-America Asset Management Company, where he focused on property management and product leasing.
"I would say there was somewhat of a plan and there was a conversation that it would be better to go elsewhere and bring some knowledge and tools back to the table. Probably in combination with the fact that my dad had a huge personality that was larger than life, and I knew I would've probably been squashed if I just tried to go work for the family business," Paster said.
In 2000, Howard finally came back to the table and worked with his dad at Paster Properties. While there were many learning opportunities and challenges that came along the way, he credits this time as one of his greatest gifts as his dad passed away in 2012.
"I look back now and if I stayed in Chicago, I think I would've had huge regrets. Very fortunate and grateful," Howard said.
As Howard stepped into the leadership role, he recognized the retail landscape was changing drastically. In suburban markets, Amazon was taking over, and the depth of retail categories weren't as deep. Paster believed that focusing on dense neighborhoods was the way to go. Aiming in areas that you really like, even if you aren't sure what the use will be, just being there and being relevant is important.
"Sell off the lesser quality of suburban centers and invest in better locations. We might not know what the use is or what that retail piece is, but we know that people are going to be there," Paster said. "I would say in a certain way we were returning to the neighborhood roots that started with my grandfather and getting back to that in a certain way."
Working in dense neighborhood areas, Paster has worked with many first-generation Americans. Paster says around 40% of Paster Properties' tenants are minority or women-owned businesses.
"One of the really great trends that we believe is happening right now which makes our neighborhoods and cities more interesting is the fact that people want to shop local and people want to support their local businesses. Entrepreneurial people are always interested in opening a new business, restaurant, or concept," Paster said.
While carrying the torch of the family company has a weight to it, Howard loves what he does and that getting up every day doing what you love is something he teaches his own kids.
"Part of the family business and responsibility you have is to help explain to the next generation why you're able to enjoy the things you do in life; it's because of the sacrifices of those that came before us."