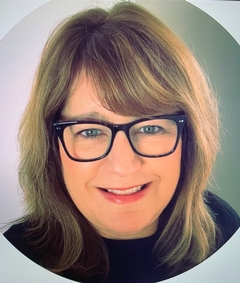 After falling into the construction industry by chance, Cathy Schmidt now leads it.
As the President and CEO of Stahl Construction, the Shoreview, Minnesota native went to Iowa State where she was recruited for a sales job. With a business marketing degree, she had never taken one sales class, but she found herself in a job selling commercial ceilings at Armstrong World Industries.
"I covered all of Western Michigan. I learned all about their product and how construction worked. I really started to become embedded in the industry and started to know enough about how buildings were designed, how they were specified, how they were built, that it really made it hard for me to not stay in the industry and keep growing," Schmidt said.
In 1995, Schmidt wanted to get back to Minnesota, so she moved back, got married, and started a family. Three months into her maternity leave, she found a blind ad for a business development and marketing job while looking through the classifieds in the newspaper. It was for Stahl. She applied and through a series of interviews, she got the job. But, as a new mother to a newborn, baby goes where mom goes.
"I picked a time in the afternoon where I thought she (newborn) might be sleeping and she came to my interview, and she sat in her car seat, and slept the whole time. Thankfully," she said.
Schmidt added that while she was walking out of that interview, that any company that would let her bring her child to the interview has got to be pretty cool. Pretty cool was a recurring theme as Stahl Construction was very flexible allowing her to juggle her growing family and career.
After a 15 year stint with Stahl, she left in 2010 with a recession looming and a lingering question of, what else was out there. She admits it wasn't the best time to look for a new job; it took a while to find something to stick, but she credits that time as special as she got to have some really great moments with her kids that she normally wouldn't have. After a few leadership and business development positions, Wayne Stahl was making changes within the company and asked Schmidt to work alongside him as the President and CEO. Before accepting, she wanted to be assured it was the right fit as she would be the first woman in that position in a male-dominated industry.
"Before I took the job, I asked him to go back to our key field people. I wanted to make sure they were supportive of it … he talked to our top folks and they really believed in me and trusted that it was a good decision, and they were all for it," Schmidt said.
As less than 25% of c-suite positions are held by women in America, Schmidt credits Stahl on being a great example as a business owner who is an advocate for women in leadership positions. According to Harvard Business Review, research has shown that firms with more women in senior positions are more profitable, more socially responsible, and provide safer, higher-quality customer experiences — among many other benefits. How did Schmidt know she was cut out for a top position? Her credibility and effort.
"I can't say I ever really thought a lot about it. What I've always tried to do is do my job to the best of my ability. Show how I'm adding value and hope that people see that. And that eventually elevates you to different things," Schmidt added.
While things have evolved over time in the construction industry, back in the day, not many men opened the door to women in top positions. Now, there's a pressure on men to bring more women to the table.
"Instead of feeling like you're inviting someone in to give up your seat, make the table bigger. Add more seats. You don't have to give up your seat – we want you there too!" Schmidt said.
As the construction industry continues to evolve, other facets have changed. Many of the people who worked in the construction industry their whole lives prioritized relationships. Now, those people are retired and not coming back. Schmidt says that relationships are a huge factor to getting things done – and those long-time relationships haven't populated.
"The churn is hard on the business. It's hard on those relationships and its hard then to extract that same desire to get something to work that has challenges…if you don't have the relationship, then it's more conversation that's contractually driven."
Despite all the changes that the industry has faced, Schmidt is proud to be working for a great company, which is celebrating its 41st year. Schmidt humbly credits the hardworking employees of Stahl for all the success they have had.
"They (newer employees) intentionally came to Stahl because they wanted to be on a team that they could have a voice, they weren't just a number and were part of what the future looks like. That they were being heard and listened to. I really believe that's one of our differentiators is what we can offer."
To listen to Cathy's full converstaion with Lisa, click here!