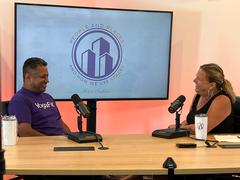 Ashok Dhariwal believes that yoga is for anybody and everybody. By making it affordable and available to the community, Dhariwal believes that through this intention, he is also able to give back. He is the owner of four multi-unit YogaFit Studios located in Minneapolis with locations in Loring Park, Linden Hills, Northeast, and Uptown. But, before Dhariwal opened these businesses, he had a work ethic that was rooted at a young age.
"My parents owned privately owned businesses, and independent retail stores in New York City. I started working at a very early age, probably the age of five…What I learned is that you can really make a difference very easily in retail. You can actually deal with every customer that has a different day and different experience," Dhariwal said.
After a career in the corporate world, Dhariwal started scouting retail-focused franchises and looked at SnapFitness – it was there he learned about YogaFit Studios, a new concept that SnapFitness was undertaking at the time. Dhariwal was immediately interested in YogaFit's premise - to make yoga more accessible and affordable.
"What I ended up doing was going to different competitors and realized it wasn't really the yoga side of it, it was the customer service. It's an intimidating sport and it shouldn't be…Beyond the approachability, there were other constraints. Yoga and fitness is very expensive, so we average around $85 a month (membership)," Dhariwal said.
Dhariwal learned to build his business around four pillars – affordability, availability, approachability, and giving back. His studios donate gifts every week to different non-profits in the area, as well as the ever-so-popular 'Bend it at Brits' event where yogis bring their practice to the top of Brits Pub. His YogaFit studios are very community-focused and building loyalty with his customers brings them back.
"One of the big reasons why I bought the franchise is that the competitors never asked me my name and never asked if I did yoga. The average person doesn't know what chaturanga is. We try to get to know them a little bit more in the lobby. What happens is that after the class, we're able to introduce them to someone else. Then all of a sudden they're going to concerts together," Dhariwal said.
He built a community so powerful it got them through the dreaded Covid season when the fitness industry was hit the hardest. It was less painful for him as a business owner as he still offered virtual classes. The fitness members were still able to get their workouts in, thanks to Dhariwal. As things continue to normalize, the fitness industry isn't back to what it was pre-covid.
"Optimistically, I'd say about six months (until things normalize). Realistically, I think it'll be a year. I think that's a lot of small businesses if you think about it, retail in general... People were trained to order online. The good thing about YogaFit, Amazon can't provide you the in-studio experience of a yoga or fitness class…We just keep focusing on what we're good at. Don't stretch out teachers too much and focus on customer service," Dhariwal said.
Dhariwal originally purchased eight franchise territories with the intent of opening four more studios to expand his metro footprint. With locations like Eden Prairie and St Louis Park in mind, he says the convenience of getting to the studio is important.
"This is such a fun business, how could it not work? If you love what you do and you can somehow prove that it works financially…I can't see myself doing anything else," Dhariwal said.
To listen to the podcast click here!
To watch the podcast interview, check out our YouTube page